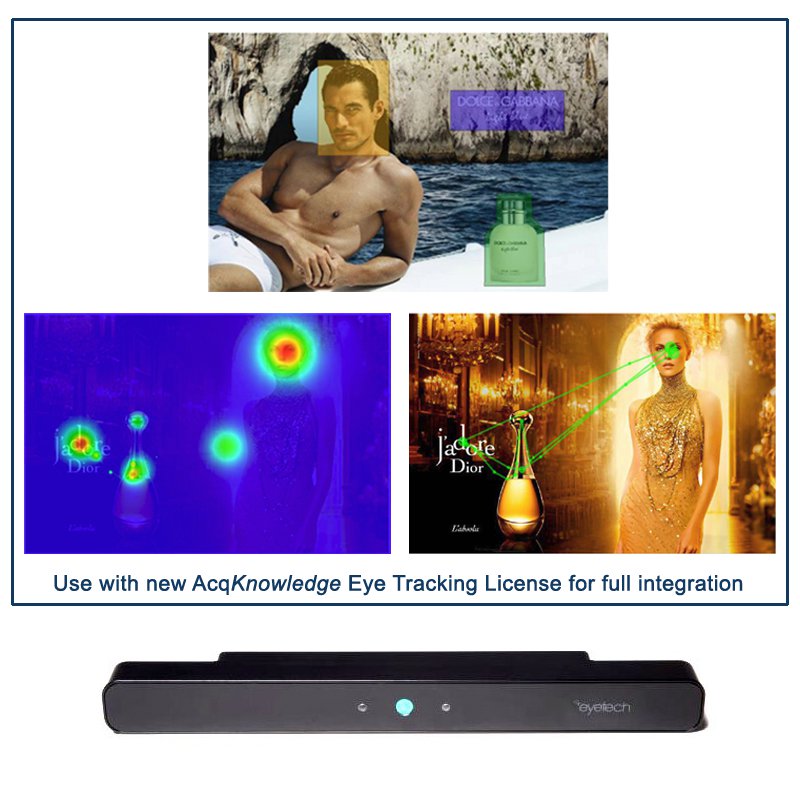 Biopac Eye Track Bar

Fully integrated in AcqKnowledge

Product No:

NS-1084

Manufacturer:

Biopac
---
Description
This small form factor screen-based remote eye tracking bar from BIOPAC is perfect for even the smallest of setups. The seamless integration in AcqKnowledge allows for access to various valuable eye-tracking metrics such as Gaze Path, Gaze Plot, Heat Map, and Attention Map.
The system is equipped with unique dark pupil technology. This enables eye tracking on any computer screen in real-time. In addition to that the infrared camera and built-in light source allow for tracking in various lighting conditions. Whether outside in sunlit conditions, inside a vehicle, a darkroom or in complete darkness, this eye tracker can keep up with the challenge.
Eye Tracking data is incredibly valuable for studies in Psychology, Consumer Marketing, Market Research, Advertising, and much more! There are four different models to choose from based on the "Hz" level. Higher Frequency results in lower latency and increased accuracy for Microsaccadic Eye Movement, Fixation, Blinks and Pupil size data. The lower latency also strongly improves data alignment between eye-tracking and physiological data.
System Features
Small and Rugged The housing is around 2.5cm shorter than its predecessor and has the USB connection in the back where it is protected from bumps.
Increased Head Motion Tolerance New 10 mm lens provides a 15% increase in head motion box.
Improved Accuracy Outdoors Strobing IR lights enable robust tracking in all types of lighting. In addition, an optical filter integrated into the front cover improves tracking near windows and other tough lighting conditions.
Less Distraction Smaller tracking indicator lights on the front reduce distraction.

Create user-defined Areas of Interest (AOI)

Scarf Plot

String Plot

Pie Chart

Key Performance Indicator (KPI) metrics
Technical Specifications
Method: Dark Pupil, single or binocular tracking
Speed FPS: select 40, 60, 120 or 200 Hz
Operating distance: 50-70 cm

Head motion box (WxHxD): 31.5 x 15 x 20 cm

Accuracy: 0.5°

Dimensions: 25.4 x 2.6 x 3.2 cm

Connection type: USB

Power supply: USB port

Weight: 0.21 kg

Certification: CE and FCC
---
Brochure
Biopac Eye Track Bar - Brochure