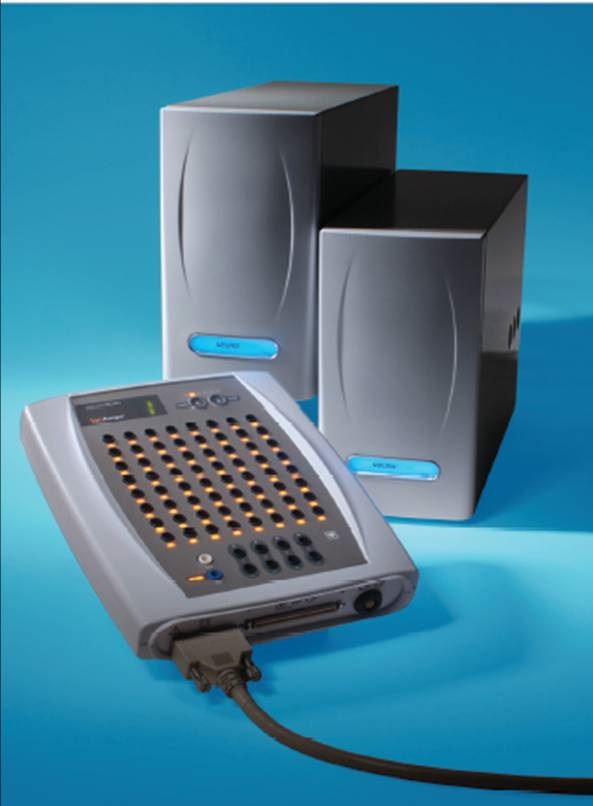 Synamps 2/RT

EEG and ERP amplifier

Product No:

NS-1017

Manufacturer:

Neuroscan Compumedics

EEG

EP

ERP

MRI
---
Description
SynAmps RT is the most recent EEG and ERP amplifier from Compumedics Neuroscan, which is built using the best available technology and extends the specifications beyond any other system. SynAmps RT is a 70-channel amplifier system, dedicated to high-density recording, consisting of 64 monopolar, 4 bipolar and 2 high-level channels. Each channel has a 24-bit A-to-D chip to ensure the most accurate sampling available. Active Noise Cancellation is an integral feature of the SynAmps RT design, providing unparalleled noise immunity. With its high quality and excellent functionality, SynAmps RT is still very compact and cost-effective. SynAmps 2 can be upgraded to the SynAmps RT, to benefit from numerous useful improvements inspired by decades of experience by Compumedics Neuroscan.
System Features (SynAmps RT)
64 Monopolar, 4 Bipolar and 2 High Level Channels per headbox.
Maximum sampling rate of 20,000 per channel (all channels driven).
24-bit A to D chip for each channel, ensuring a more valid measure of data.
All channels sampled simultaneously.
Recording bandwidth from DC to 3000 Hz allows more accurate recording of artifacts associated with the MRI.
Active sampling of environmental noise and application of active noise cancellation.
Can be integrated with MagLink RT System for recording EEG data in the MRI.
Allows to record with both standard electrode impedance level as well as fast preparation, high impedance level.
Compact and portable amplifiers
Custom solutions (e.g. Mu metal shielding) available for shielding environmental noise.
Technical Specifications
Monopolar Channel Count:
64 Per Headbox up to 512 Channels
Bipolar Channel Count:
4 Per Headbox, 16 Per System Unit
High Level Channel Count:
2 Per Headbox, 8 Per System Unit
Maximum Sampling Rate:
20,000 Hz Per Channel all channels driven
Sampling Method:
All Channels Sampled Simultaneous
Amplification Mode:
Digital
A/D Resolution:
24 Bit
Input Impedance:
>1 G ohms
CMRR:
110dB
Input Noise:
<0.5uV RMS DC to 200Hz,
<1.5uV RMS
Bandwidth:
DC to 3500 Hz
Sensitivity (AC Mode):
3 nV/bit
Digital (TTL) Inputs:
8 Bit Stimulus,
8 Bit Response TTL
High Level Input Range:
+/- 5 V
Impedance Measurement:
1K Ohm to 200K Ohm