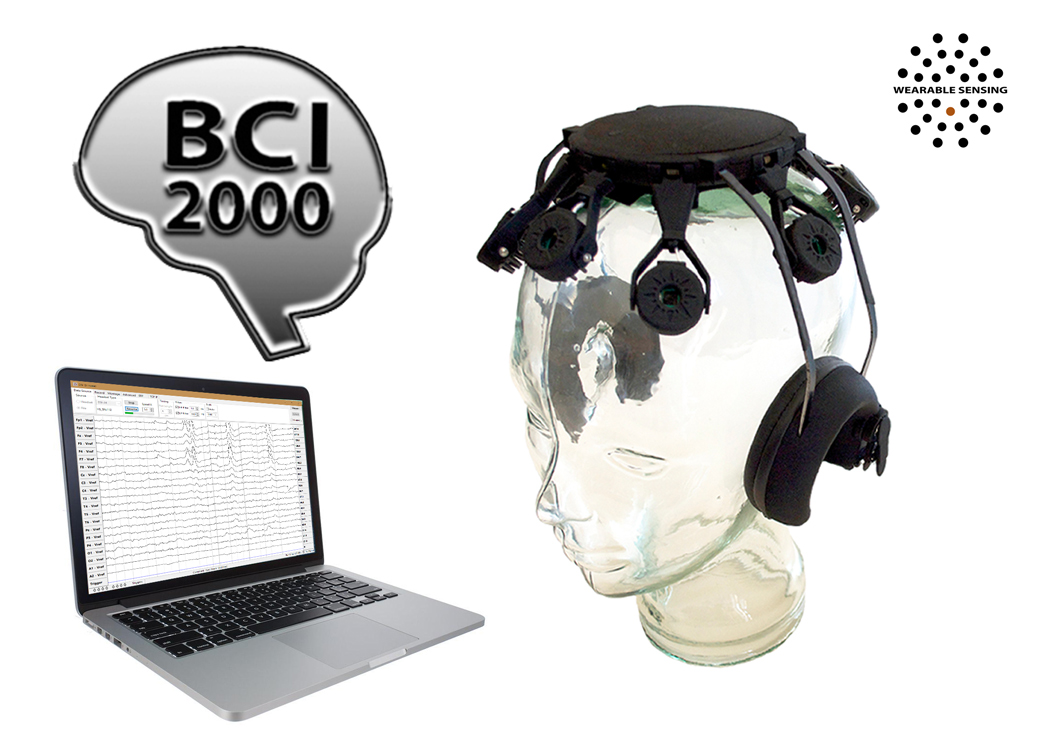 DSI-7 BCI 2000 Package

Intuitive BCI package with Dry EEG

Product No:

NS-1071

Manufacturer:

Wearable Sensing

EEG

ERP

BCI

FFT
---
Description
The DSI-7 is a complete, research-grade wireless EEG system designed for rapid application of 7 sensors at positions corresponding to locations within the international 10-10 system. Sensor locations can be customized on demand by the manufacturer. The system comprises ultra-high impedance active Dry Sensor Interface (DSI) sensors that function through hair, requiring no skin preparation or conductive gels. The sensors can be individually adjusted to optimize contact impedance. They are spring loaded to provide constant, comfortable contact pressure that mitigates movement artifacts seen during ambulation and are actively and passively shielded to prevent contamination from electrical artifacts.
The DSI-7's practicality, portability, and high signal quality opens the door to taking numerous applications that require rapid EEG recording. Such applications include:
Augmented cognition
Biometrics
Brain-computer interfaces
Cognitive stress or workload monitoring
Neuroeconomics / Neuromarketing
Neuroergonomics
Neurofeedback
Psychological Research
Sports Peak-Performance training
System Features
Adjustable to fit a wide range of headsizes
Bluetooth wireless transmission with sampling at 300 Hz
Comfortable for wearing continuously over 8 hours
Continuous impedance monitoring
Linked-Ears earclip mounted active sensors
Portable design suitable for light ambulation in office or lab environment
Rechargeable Li-ion batteries allow continuous operation
Self-donned and ready to record EEG in under 1 minutes
7 sensors positioned at choice of F3, F4, C3, C4, Pz, P3, P4 locations of the 10-20 International System
4-bit digital trigger input
Technical Specifications
Sensor Locations
Seven (7) sensors at fixed locations of theInternational 10/20 System locations:F3, F4, C3, C4, Pz, P3, P4 + Linked Ears
Common-Mode-Follower
One (1) Common Mode Follower Sensor at Pz is default reference (can be changed to LE in software)
Ground
One (1) ground electrode at the last remaining location
Headset
Easy to don, comfortable, and long-term wearable headset assembly with spring-loaded arms and pods for sensor support.
Good for easy rapid use in office or laboratory environment.
Amplifier/Digitizer
One (1) 7-channel amplifier and digitizer
Wireless
Bluetooth
Run-time
>12 hours
Headsize fit
52-62cm circumference
Headset weight
~350g
Wireless range:
10m
Digital Inputs:
4 bit input
Analog/Digital Converter:
16 bits
Analog/Digital resolution:
0.317 uV referred to input
Sample Rate:
300 Hz
Bandwidth:
0.003-150Hz
Gain:
60
Common mode rejection ratio:
> 120dB
Channel Cross-talk:
< -70dB with sensors
Input Impedance (1Hz):
47Gohm
Input bias current:
<25pA
DC offset tolerance:
+/-200 mV
Maximum input range:
10mV pk-pk
Noise (1-50Hz):
<3 uV pk-pk
Please note: Important! This product is for research applications only. Not a medical device as defined in EU directive 93/42/EEC. Not designed or intended to be used for diagnosis or treatment of disease.
---
Brochure
DSI-7 BCI 2000 Package - Brochure