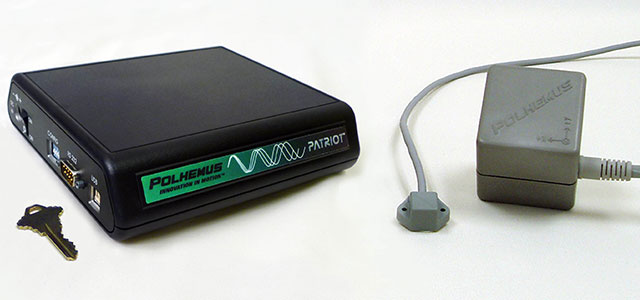 Patriot

Full 6DOF motion tracking solution

Product No:

NS-1015

Manufacturer:

Polhemus

Localisation
---
Description
PATRIOT, in its sleek, modern packaging, is the cost effective solution for six-degree-of-freedom tracking and 3D digitizing. It is a dual sensor motion tracker with an update rate of 60Hz per sensor. PATRIOT proves its ease of use via an intuitive Graphical User Interface (GUI), and boasts an improved signal to noise ratio, increasing stability and resolution while providing consistent high quality data. The size of the electronics unit is only 6.75 inches L x 6.25 inches W x 1.75 inches H. Measuring position and orientation in real-time, PATRIOT can update data continuously, discretely (point by point), or incrementally. With the optional stylus, you can trace the outline of a physical object or collect polygon facets and get pinpoint accuracy of unlimited X, Y, Z data points. PATRIOT has a range of five feet, resolution of 0.0015 in. and 0.01 degree and static accuracy of 0.1 in RMS for the X, Y, Z position and .75 degrees RMS of orientation.
System Features
Cost Effective: Provides both position and orientation at an unbeatable value
Embeddable Sensors: Because no line-of sight is required, sensors can be embedded into your custom form factor, product or product accessory
Portable and Easy to Use: The lightweight system includes a systems electronics unit, a sensor and a source. Installation takes just minutes and no user calibration is required
Technical Specifications
Update Rate:
60Hz per sensor simultaneous sampling
Latency:
less than 18.5 milliseconds
Data Format:
Operator selectable ASCII or IEEE 754 binary; English/Metric Units
Power Requirements:
4W, 100-240 VAC, 50-60 Hz
Interface:
RS 232 with selectable baud rates up to 115.2 K USB 2.0 (high speed) USB;
RS-232 to 115, 200 Baud rate
Dimension:
17.1cm (6.75in) L x 15.9cm (6.25in) W x 4.4cm (1.75in) H
Certification:
FCC Part 15, Class B; CE: EN61326-1: 2006 EMC requirements;
Class B (Emissions) Class A (Immunity)
Please note: Important! This product is for research applications only. Not a medical device as defined in EU directive 93/42/EEC. Not designed or intended to be used for diagnosis or treatment of disease.
---
Brochure
Patriot - Brochure