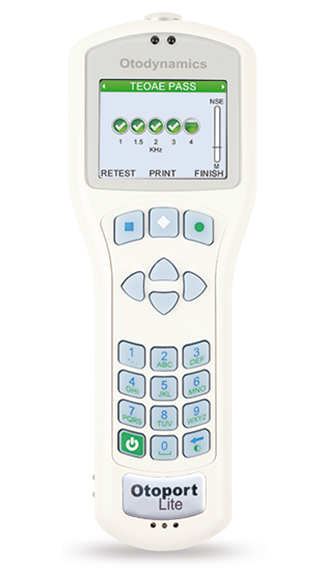 Otoport Lite

Definitive OAE Screener

Product No:

NS-1023

Manufacturer:

Otodynamics

OAE

TEOAE

DPOAE

DP
---
Description
The Otoport Lite is a simple to use handheld OAE system with an intuitive interface, offered with either TEOAEs for newborn hearing screening or DPOAEs for both newborn and paediatric hearing screening. Automatic pass/refer, low cost consumables and long battery life all make it the ideal way to screen with OAEs.
System Features
Configurable TE and DP pass criteria at 6dB SNR
Optimized paediatric mode
Quality Assurance with proven OAE technology
Automatic transfer of data with Otolink for record review, management, printing and archiving
Technical Specifications
User interface:

Display: 65K color LCD, QVGA resolution

Memory and storage:

More than 250 test cycles or one full working week (typical use). 4GB non-volatile memory

Data acquisition:

Analogue interface: 2 x 16bit (output) and 1 x 16 bit (input) channels

Electrical interfaces:

Probe connector (Otodynamics 8-pin). Data/charge connector - USB 1.1/2.0

Power:

Internal rechargeable 3.7v, 1000mAh lithium-polymer battery

Dimensions:

195mm (7.6in) x 70mm (2.7in) x 30mm (1.2in)

Weight:

214 grams (7.5oz)

Classifications:

Device Class 2a (Directive 93/42/EEC). ISO 13485. ISO 14971.
BS EN 60601. UL 60601. CSA-C22.601.
---
Brochure
Otoport Lite - Brochure