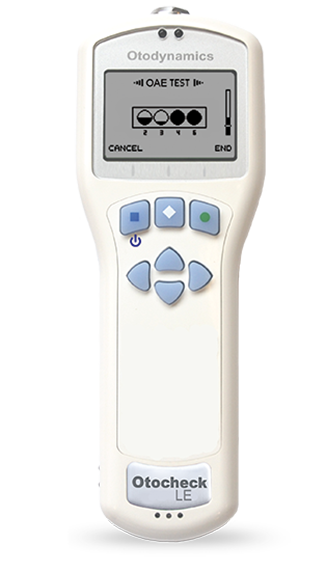 Otocheck LE

Definitive OAE Screener

Product No:

NS-1024

Manufacturer:

Otodynamics

OAE
---
Description
The Otocheck LE provides high quality OAE measurement features in a compact, handheld format. Different models are available to perform either TEOAE or DPOAE tests. The Otocheck LE is simple to use and with powerful measurement features performs an automatic analysis of cochlear status within seconds. Customisable pass criteria control the test's automatic stop mechanism and a clear Pass/Refer indication is provided.
System Features
TEOAE Quickscreen or DPOAE testing
Ultra fast interactive graphic display
Frequency band analysis
Long battery life
Technical Specifications
User interface:

Display: 128 x 64 pixels graphic LCD

Memory and storage:

More than 250 test cycles or one full working week (typical use). 8MB non-volatile memory

Data acquisition:

Analogue interface: 2 x 16bit (output) and 1 x 16 bit (input) channels

Electrical interfaces:

Probe connector (Otodynamics 8-pin). Charge connector - USB 1.1/2.0 compatible

Power:

Internal rechargeable 3.7v, 1000mAh lithium-polymer battery

Dimensions:

195mm (7.6in) x 70mm (2.7in) x 30mm (1.2in)

Weight:

214 grams (7.5oz)

Classifications:

Device Class 2a (Directive 93/42/EEC). ISO 13485. ISO 14971.
BS EN 60601. UL 60601. CSA-C22.601.
---
Brochure
Otocheck LE - Brochure