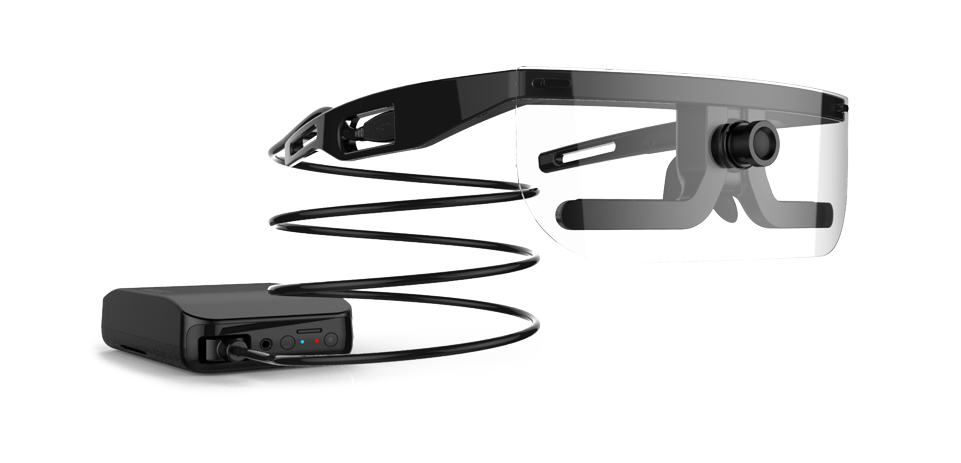 Eye Tracking Glasses ETV

Portable, Precise and Wearable Binocular Eye Tracking Glasses

Product No:

NS-1086

Manufacturer:

Biopac
---
Description
The ETVision system is a binocular Eye Tracker glasses system with a high update rate. These Eye Tracker glasses are portable, easy to use and complete mobile indoors or outdoors. Eye tracker data can be recorded over a longer period of time. The ETVision may be worn either by participants with uncorrected vision or by participants who require prescription glasses, or contacts. Further, the intuitive software interface that comes with these Eye Tracker glasses allows for single point or multiple point calibration.
The ETVision records pupil position (vertical and horizontal) and pupil size (diameter) of both eyes. Additionally, the ETVision Eye Tracker glasses records video and audio data as well. An optional visor attaches and detaches from the frame by attaching small slots at the upper corners of the visor with small hooks on the frame. Data is sent to a computer via wireless LAN or can be captured locally on a microSD card. Battery power allows recording time of +5 hours.
ETVision consists of the Eye-Tracking glasses and the ETV-Controller unit. The Eye-Tracker resembles an eyeglasses frame that can be worn with or without prescription eyeglasses. It contains miniature "eye cameras" that view and record each eye separately. Further, a "scene camera" views and records the scene in front of the participant. An inbuilt microphone allows for communication between the participant and the researcher. This microphone is located in the part of the frame that sits just above the participant's eyebrows. The left and right bottom sections of the frame each include a panel containing a camera and a pair of LEDs. The panels rotate within an outer enclosure so that it is possible to adjust the camera vertical aiming direction with respect to the optics frame. Although these panels are usually best left in their standard position, it may be necessary to use this adjustment if facial structure makes the optics frames sit in an unusual position or angle on the face. The frame comes with three nosepieces that can be interchanged to adjust the vertical position of the entire frame with respect to the face.
The ETV-Controller unit powers the ETVision Eye-Tracker glasses with a rechargeable Li-Po battery. Additionally, it holds an microSD memory card for on-the-go recordings (allowing for typically 2 hours of recorded eye-tracking and scene movie data).
Applications
Market Research / Marketing / Neuromarketing
Usability Testing
Behavioral Science and Neuroscience
Social Interaction
Sports
Kinesiology
and many more!
System Features
Wireless, portable and light-weight.
Displays left eye, right eye and scene image.
Record data via wireless LAN or locally on a microSD card.
Precise, binocular eye measurement at 180Hz.
Automatic vergence correction for accuracy at any distance.
High Definition Scene Image.
Incredibly fast and simple setup: Auto feature detection combined with single-point calibration allows for fast participant setup.
Score feedback gives investigator confidence for quality of gaze data.
ETAnalysis base package included with every ETVision System.
Left Eye, Right Eye and Scene images displayed in GUI with constant real-time feedback showing point-of-gaze and system feature recognition performance.
Two Way audio allows between participant and researcher during a performed task.
Unsurpassed customer support from the team at Argus Science.
Real-time network communication with external devices.
Technical Specifications
| | |
| --- | --- |
| Eye-tracking technique | Dark pupil - corneal reflection |
| Binocular | Yes |
| Gaze measurement frequency | 180 Hz |
| Pupil size measurement | Yes |
| Parallax compensation | Automatic |
| Accuracy | 0.5° (degrees) |
| Calibration | Single point, multiple point modes |
| Outdoor capability | Yes |
| Synchronization with external 3rd party devices | Available (please enquire) |
| Prescription glasses compatible | Yes |
| Scene camera resolution | 720p (1280 x 720) @ 30Hz |
| Microphone (inbuilt) | Yes |
| Weight | 56g |
| Nominal SD recording time | 128 GB, typically +2 hours |
| Main battery | Rechargeable Li-Po battery |
| Main battery run time | +5 hours |
| Weight (with battery) | 345g |
| Connection to computer | WiFi (802.11ac) or LAN (Gigabit Ethernet) |
Please note: Important! This product is for research applications only. Not a medical device as defined in EU directive 93/42/EEC. Not designed or intended to be used for diagnosis or treatment of disease.