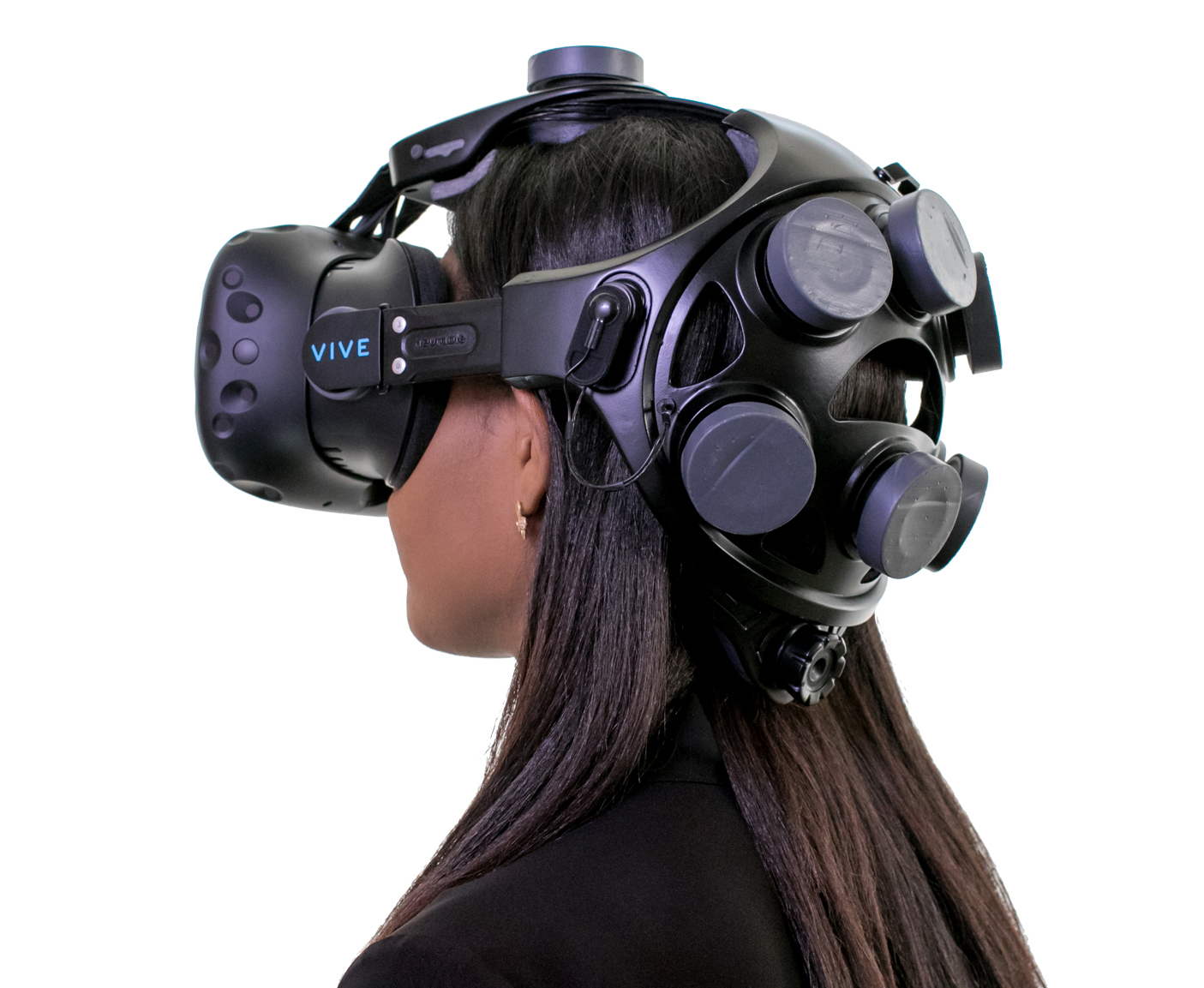 DSI-VR300

First Dry EEG with VR Headset Integration

Product No:

NS-1077

Manufacturer:

Wearable Sensing

EEG

EP

ERP

BCI
---
Description
The DSI-VR300 is the first-ever Active Dry EEG headset with integrated VR Headset. It is a research-grade EEG system specifically designed for P300 applications and other research projects in the field of BCI (Brain-Computer Interface) and Neuropsychology where VR (virtual reality) integration is required. The DSI-VR300 comprises of low output impedance Dry EEG Sensors that function even through thick hair, requiring no subject preparation or any conductive gels. These Dry EEG sensors can be individually adjusted to optimize contact impedance. The DSI-VR300 interfaces seamlessly with the HTC-Vive VR headset. A virtual reality specific API developed by Neurable allows integration of P300 elements into a VR environment.
The system comes as a package and includes:
EEG headset with an adjustable head strap to fit a wide range of head sizes
Dry and Active EEG electrodes with Faraday cage
Full accessory kit (including batteries, charger, BlueTooth adapter, etc.)
HTC-Vive Headset
Acquisitions software (DSI-Streamer)
C-based API for Windows, Mac, Linux
LSL and TCP/IP streaming
HTC-Vive SDK for VR integration
The DSI-VR300 can further interface with other applications such as:
NeuroGuide / BrainSurfer (Neurofeedback software)
EEGLAB / ERPLAB / BCILAB
Mensia Neuro RT / OpenVibe
TEA Ergo CAPTIV
BCI2000
Presentation (Neurobehavioral Systems) / E-Prime (Psychology Software Tools) / Inquisit (Millisecond)
System Features
Active Dry Electrode sensors with 2-stage amplification and digitization in the headset
Patented artefact resistant electro-mechanical design
Rapid setup and disassembly time
Adjustable to fit a wide range of head sizes
Wireless triggering for synchronization of multiple devices for hyperscanning or ambulatory ERPs
Optional embedded 3D accelerometers
Seamless integration with HTC-Vive
Unity and Unreal engine integration
Embedded real-time P300 analysis
Technical Specifications
| | |
| --- | --- |
| Sensor locations: | International 10-20 system: Fz, Pz, P3, P4, PO7, PO8, Oz, Linked Ears |
| Reference: | Common-mode-follower |
| Ground: | A1 |
| Positional accuracy: | Within 1.5cm |
| Amplifier/digitizer: | 16 bits, 7 channels |
| A/D resolution: | 0.317 µV referred to the input |
| Sampling rate: | 300/600 Hz |
| Bandwidth: | 0.003 - 150Hz |
| Gain: | 60 |
| CMRR: | > 120 dB |
| Channel cross-talk: | < -70 dB with sensors |
| Input bias current: | 47 GΩ |
| DC offset tolerance: | ± 200 mV |
| Maximum input range: | 10 mV p-p |
| Noise (1-50Hz): | < 3 µV p-p |
| Digital inputs: | 4 bits |
| Data transfer: | Bluetooth (wireless) |
| Wireless range: | 10m |
| Run-time: | > 12h |
Please note: Important! This product is for research applications only. Not a medical device as defined in EU directive 93/42/EEC. Not designed or intended to be used for diagnosis or treatment of disease.
---
Brochure
DSI-VR300 - Brochure